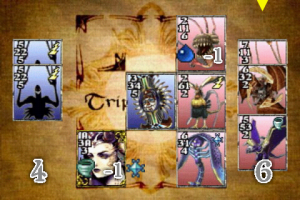 I'm pleased to announce my first game released for the android platform:
Triple Triad Trials after several months of hard work. The game is a clone of the final fantasy VIII mini-game called Triple Triads from Square Enix. You can find it on Google Market/Playground, go download it now!
The game will be available both in free ad-supported and paid versions.
The game features 110 different cards to collect. Try to gather them all! You will have to fight against 40 AI players, but beware, they will only play against you under certain conditions, such as play a certain card they are after or using a certain set of rules, just like in the real game, ensuring hours of fun!
You can play against the computer players or against your friends both online and over a bluetooth connection.
The game is translated to english, spanish, italian, french german, portuguese, german and japanese (translated with Google Translator).
For those of you who have lived under a rock and don't know of such a great game, the basic game consists on taking turns to place cards on a board from a hand of 5 cards taken from the deck. Each card has 4 numbers left, right, top and bottom. When a card is placed if the left number of the card is higher than the right number of the card on the left, that cards ownership goes to the player who dealt the new card. The same goes for the other numbers. When the board is full, the player owning more cards winds and takes one or more cards from the loser depending on the active payment card rule. There are more rules to consider, but you will learn them in due time. Just check the tutorials for help.
downloads, video and screenshots:
I hope you enjoy the game as much as I enjoyed working on it!